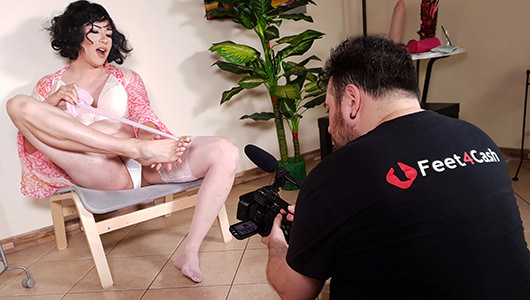 A highly professional video crew is at your complete disposal to make the video or photoset you've always dreamed about!
Select one girl among the available ones, send us the description of the what you want to make and wait for our answer. We will then explore together every single detail of your request and, when everything will be decided, we will let you know the cost of it (usually a standard one, don't worry!).
After a few days you'll be able to download your Full HD video or your photoset in a single ZIP file!
Ages of experience can't lie: no one can make foot fetish or photosets videos better than we do. Shoeplay, Pedal Pumping, Revving, Crushing are just a few of the peculiar kind of videos we made for our clients. And you? What are you waiting for?
Minimum duration for a custom video is 10 minutes and a photoset has a minimum number of 150 pictures. Price for a video or a photoset starts from 300€. The price, of course, can be different depending on duration and complexity of what you request. Fill in your request below and send it to us without any obligation: after defining every single aspect of it, we will send you a quote that (obviously) you will be able to accept or refuse.